Event Description
The event started on the 30th of March. it consists on you finding hidden Surprise Eggs around your world, they spawn randomly and can spawn inside blocks. Once you catch one, you'll be able to open it and obtain prizes, including a piece of the rare Egg Hunter Set.
Surprise Egg Prizes
12th of April 2017 (Update 1.0.5)
- New Emotes
- +150 New clothes and blocks.
- The event lasted a week (7 days)
28th of March 2018 (Update 1.2.1)
- Easter Booster returns with new items!
- Easter event starts on March 30th!
-
Friday 13th mini event on.. guess when!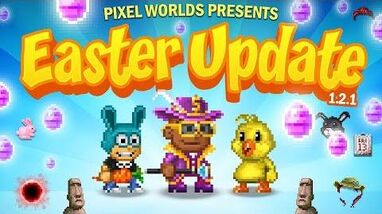 -
Pet Owner's day mini event on 18th April!
- Enter the Netherworld in a set group of players through Red Portal!
- Support added for Russian, German, Spanish and other Western languages!
- Easter Shard and Dark Bunny Suit blueprints return for limited time! (Dark Bunny Mask Blueprint, Dark Bunny Suit Blueprint, Dark Bunny Shoes Blueprint)
- Rare Hair Pack 3 for a limited time!
- VIP Daily Bonus gems permanently doubled!
- Improvements to PWE marketplace!
- Optimisations and improvements.
Community content is available under
CC-BY-SA
unless otherwise noted.